Crowns and Bridges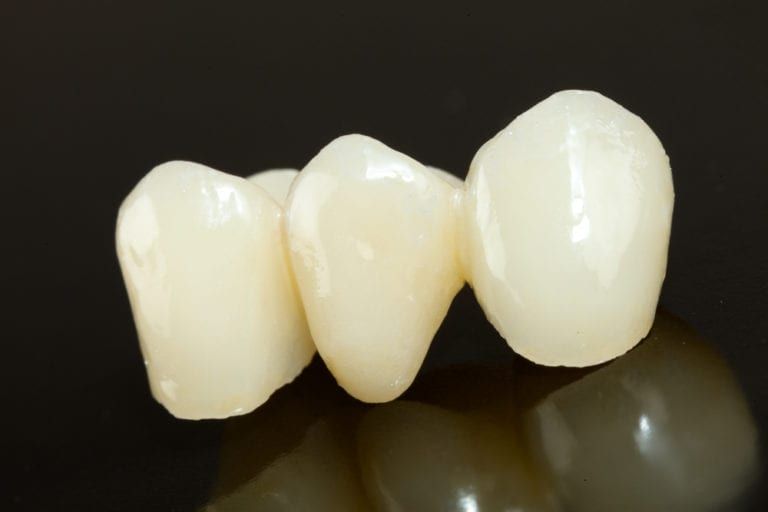 Dental crowns and bridges are custom-fitted tooth prosthetics that are used to replace or restore damaged or missing teeth. Crowns, also known as "caps", are fixed over the surfaces of natural tooth structures or dental implants. Bridges are used to fill in the gaps left by missing teeth and are anchored in place by the natural teeth on either side of the empty space. Both crowns and bridges are permanent, they may not be taken in and out of the mouth.  Patients who choose a  crown or a bridge to restore their smile achieve both the function and appearance of natural, healthy teeth.
Frequently Asked Questions
Is a crown or bridge right for me?
If you have a tooth that is damaged or decayed, but still intact, a crown may be right for you. If your tooth is missing, but its former position is surrounded by other tooth structures, a bridge may be the solution for you. Schedule an office consultation to determine whether you could benefit from crowns or bridges.
What should I expect when I choose to have a crown or bridge?
You should expect to be scheduled for two appointments. The first appointment entails shaping the tooth in such a way that a crown will fit over it.  When the desirable shape has been achieved, a final impression will be made. This impression is then sent to a dental lab here in Des Moines where your permanent crown will be made. Most crowns  are made and returned to our office in about a week. At the end of your first appointment, a temporary crown will be made. You will wear this temporary crown until you return for your second appointment, when the permanent crown is permanently cemented in to place.
Do I need to follow any post-treatment care guidelines?
It is normal to experience some cold sensitivity after you receive dental treatment. A quick "zing" with ice cold water, pop or ice cream is normal, and will remind you of the work you have had done.
Temporary crowns are kept in place on the tooth with temporary cement. Anything that is sticky or chewy, may pull the temporary crown off. It is advised to stay away from sticky or chewing foods and gum until the permanent crown is cemented in place.